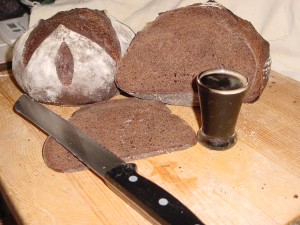 After 25 years of hobby brewing, a friend of mine opened a brewery of his own. Lightning has since become one of the best in San Diego county, which is known far and wide as a hotbed of world-class craft beer. Jim focuses on European-style beers — everything from crisp, beautiful lagers and German-style wheat beers to French farmhouse ales and the deepest of deep dark porters (some of which he's barrel-aged for even more texture). I love everything he makes, and we've spent hours discussing the finer points of yeast, grain, enzymes and the idiosyncrasies of lacto- and acetobacillus.
A while back, after weeks of thinking about it, I took a stab at using one of his beers, Black Lightning porter, to make bread. The beer itself is very, very rich, with layers of malt, chocolate, hops and toast. The result was a wonderfully sweet and malty loaf with a moist crumb and luscious finish that had a distinctly hoppy edge.
The formula:
16oz of porter (boiled to remove the CO2 and kill the beer yeast, then cooled to room temp)
4oz water
12oz unbleached bread flour
10oz stone ground whole wheat flour
3oz unsulphured molasses
1 oz honey
3/4 oz fresh compressed yeast
1/2 oz salt.
Combine all the ingredients in a mixer, knead 5-6 minutes at low (KA 2) speed.
Ferment 60 min ferment, shape into loaves and proof another 45min
Bake with steam on a stone preheated to 500F for 10 min, steaming again after 3 min, then reduce to 450F for another 12-15 min.
The loaves will be done when they reach an internal temp of 205F and sound hollow when tapped gently.