It's been a good while since I last chronicled our adventures and misadventures in the world of publishing, and a lot has happened in the interim.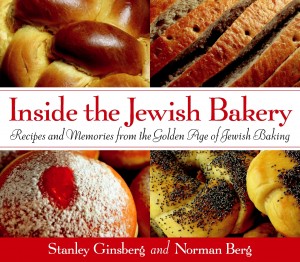 Many of you know that our publisher wasn't entirely happy with our original title — The New York Bakers Jewish Bakery Book — and so after putting out several suggestions for informal feedback, we finally settled on Inside the Jewish Bakery: Recipes and Memories from the Golden Age of Jewish Baking. Looking back at it, Norm and I both agree (as does the publisher) that this title is much more indicative of the contents of the book and leaves a lot more room for Norm's stories and reminiscences of how it was back in the day.
It's also amazing how content inflation works: originally, our contract called for a 70,000 word book, which translates into about 250 pages. In September, when the manuscript was due, it came to about 90,000 words, but the publisher didn't make an issue of it. With additions — more Norm stories and a whole section on Passover baking — and revisions, we suddenly found that we had 100,000 words — about 350 pages — and the publisher freaked.
Someone once asked Ernest Hemingway to name toe most important quality of great writing, and he answered, "a willingness to murder your children." And so I murdered about 28,000 of my kids and got the book down to around 72,500 words — which probably isn't a bad thing, since the discipline of self-editing made me think about what was really essential — the must-includes versus the nice to includes. So basically, most of the background info in ingredients, techniques and equipment went bye-bye, along with redundant recipes and those that people can find elsewhere.
I expect that a lot of the cut material will end up on the NYB website at some point. Norm suggested that we try to sell it as Volume 2 — The Lost Chapters. We'll see ….
Also, it looks at this point like the pub date will be more like July than the March-April timeframe Camino Books was thinking about before … understandable, given the complexities of editing, design, marketing, etc etc.
And speaking of marketing, one of the things we're also learning is that being an author is different from being a writer. Writers write and get paid for it; authors become public personas and have to go out and do signings, shows, media, etc etc. More than that, if you're an unknown at a small publishing house, you have to pay for it yourself. Fortunately, we found this terrific publicist who not only has done a bunch of cookbook work, but whose father owned a Jewish bakery in West LA in the 50s and 60s. So not only did we get a great professional; we also got a member of the family, so to speak … and we even got a great photo of her dad rolling bagels that's gonna appear in the book.
So okay, that's where we stand coming into Valentine's Day weekend. Stay tuned!