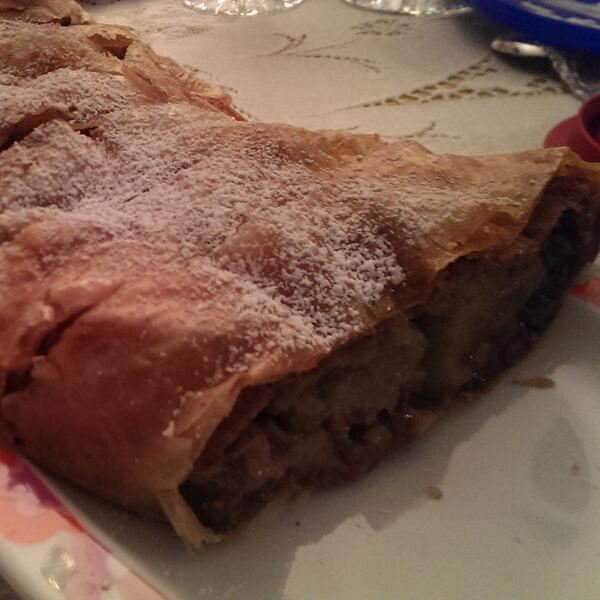 This year, for the first time in a long time, I didn't bake honey cake for Rosh Hashanah. Not because I don't love it; I do. I love the sweet-sour spiciness of the fruity-sweet, slightly sour honey; the fragrant bite of cinnamon, nutmeg, ginger and cloves. I love the firm consistency that reminds me of a fruit cake, but without the fruit. I love the way the top crust of my rye-flour honey cake softens after a few days and turns into a caramel-like self-frosting that melts in my mouth and carries with it the concentrated essence of sugar and spice. And I love the idea that by baking a honey cake, I'm carrying on a tradition that has bound Jews together, across centuries and generations.
But no, I didn't bake honey cake this year. Why? Because my wife and I wanted something different for Rosh Hashanah; something equally sweet and equally special, something equally evocative of the holiday and of our European roots. I baked an apple strudel.
We chose apple strudel for many reasons, some practical, some symbolic. On the practical side, stretching the strudel wrapper is an adventure akin to magic. I'm enthralled by the idea – and the reality – of transforming a few ounces of dough into a nearly transparent membrane the size of a kitchen table and filling it with fresh apples, sugar, raisins, walnuts and spices that have macerated for hours.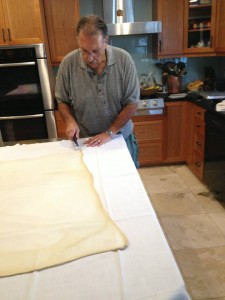 Then there's the wonder of rolling the strudel. Few baking experiences can compare to rolling a strudel, starting with the first fold over the filling, and then gently pulling and lifting the tablecloth on which I've stretched the dough so that the strudel rolls itself, like the body of a snowman, without the damaging interference of hands and fingers. The aroma of baking strudel  – the same honey-cake perfume of cinnamon, cloves, ginger and nutmeg, but with the added fruit-sweetness and subtle tang of cooking apples, brings its own aura of sweetness in the coming year.
On the symbolic side, this year's baking united us with generations and traditions past. It brought me closer to my late grandmother, my bubbe, who came from a shtetl southeast of Warsaw and who, as my father recalled to me many years ago, rolled her strudel on a tablecloth in the kitchen I remember so well.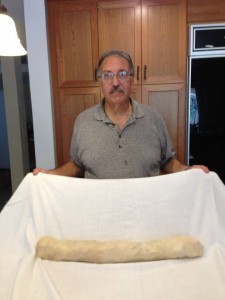 For my wife, Sylvia, it brought back memories of her mother, Gertrude, who grew up in a town called Judendorf (Jew-town) just outside of Graz, in eastern Austria. My late father-in-law fled the Holocaust in 1938 and returned to his native Austria with the U.S. Army. There, he met and married Gertrude and brought her back to Philadelphia right after the war. She, too, baked strudel, stretching her dough thinner than paper, filling it, rolling it with a tablecloth.
I made the strudel for a family of close friends who came to celebrate the New Year us, and especially for the patriarch, Laszlo, whose family survived the Holocaust in Budapest and escaped to Canada following the Hungarian Uprising of 1956.
When it came time for dessert, we served the strudel warm, dusted with powdered sugar. We ate, our stomachs full and our eyelids heavy with wine and food. The dining room was filled with contented laughter and the sweet smell of apples and spices. Around us, as if borne on that fragrance, hovered the spirits of those we loved and had lost, enfolding us with their warmth and bestowing their blessings for a sweet and prosperous year.