Last week, my wife's cousins from Styria, in eastern Austria, came to stay with us and brought us some dark green pumpkinseed oil, which is a regional specialty. They also brought a recipe for a chiffon cake made with the oil. The recipe couldn't be simpler (and it's also an amazing accompaniment to a good lager, such as a hefeweizen or witbier):
1. Grease and flour a bundt or gugelhupf pan and sprinkle the bottom with toasted pumpkinseeds.
2. In a bowl combine 4 egg yolks, 10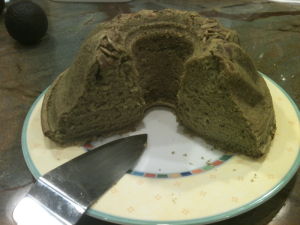 0ml of water, 100ml of pumpkinseed oil, 100g of vanilla sugar, 150g of powdered sugar and beat for at least one minute until fully emulsified.
3. Combine 100g of granulated sugar with the 4 egg whites and whip to soft peaks. Add about 1/3 of the eggwhites to the oil mixture and stir gently until blended.
4. Sift together 250g of all-purpose flour and 5g of baking powder and add slowly to the oil mixture, stirring gently until smooth, then fold in the remaining eggwhites.
5. Bake at 350F/170C for 55-60 minutes, until a tester comes out clean.
The oil isn't easy to come by, but it's absolutely a great find when you do. It's also fantastic believe it or not) on vanilla ice cream!